The freestanding greenhouses we build are ideal for residential, hobby & starting professional grower use.
A greenhouse which is also called a glasshouse is a building or complex in which plants are grown.
Wind Chime Nursery provides and builds the plastic greenhouses made of polyurethane or polycarbonateand that do not have gutters or trusses.
With the cost of food increasing daily and the increased use of pesticides, backyard hobby organic growing and small professional growers is becoming popular.
Buying a greenhouse can be a fun process with well worth results and our assistance in guiding you on the appropriate size based upon your needs and level of expertise will save you future money and angst.
Are you a beginner, a hobbyist or a starting professional grower? Your answer to this question will help determine size, cost and complexity of the greenhouse we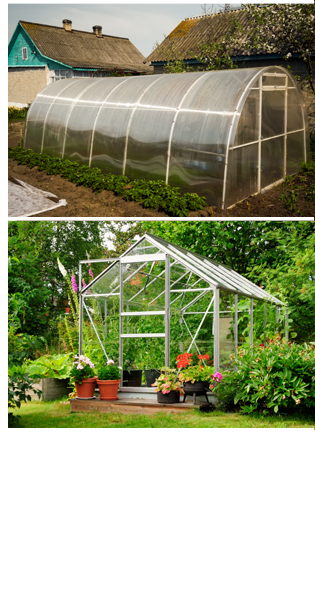 can provide to you. The biggest regret of most beginners is they did not choose a larger greenhouse. When you add plants, greenhouse benches and garden equipment your greenhouse can become very crowded. And as you become more advanced you will want to increase the volume of your growing space.
Greenhouses are great for plant grower enthusiasts since the greenhouse walls heats up from the incoming sunshine and is retained in the building by the roof and wall and prevented from rising and flowing away. Since the temperature is maintained within a desired range, greenhouses are used for cultivating tender plant sprouts or growing out of season plants.
Wind Chime Nursery provides quality and economical greenhouses in two styles. The first is a freestanding arched greenhouse which is ideal for winter storage of plants, hardening off plants to prepare for Spring planting or for temporary cover. This greenhouse is installed with factory mounted aluminum extrusions on the end bows and a choice of aluminum baseboard extrusions for attaching the polyethylene covering. The freestanding arched greenhouse is available in standard widths: 14', 17', 22', 25', 28', and 30'. We also prepare your yard before installing your new greenhouse with removing stumps and doing any needed grading.
The second greenhouse style is a peaked roof building that does not have gutters or trusses but has the below features:
Twinwall 8 mm clear polycarbonate, extrusions and hardware
Ventilation package, including exhaust fan, louvered door vent, and thermostat
Heating system
Bench system with Dura Bench Top
3' x 7' Twinwall Polycarbonate Single Hinged Door
Wind Chime Nursery provides and builds the complete frame system with columns, sqaure purlin runs, and 6" column spacing. The peaked roof building greenhouse has many standard widths and lengths which can be used for many purposes:
Greenhouse plant growing
Overwintering your plants
Equipment storage
Sales area covering
Car shed
Boat winterizing shed
Hobby shed