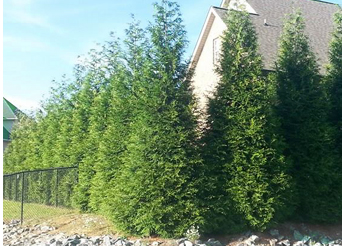 Evergreens are great for reducing noise and provide screening all year long and Thuja Green Giants are considered the best privacy hedge to buy. The Green Giant Arborvitae has a beautiful shape and it's fast growing reaching a height of 60'! The Thuja Green Giant is the ultimate "block your neighbors view" shrub.
Wind Chime Nursury grows evergreen trees on their main nursery location and has a large inventory of trees ranging from 1 foot to 10 feet. Wind Chime also has a team of planters and we can deliver and plant these trees for you. We drive our trees and shrubs to Tennessee, South Carolina and Virginia or up to a three hours drive from Farmington NC.
Other popular evergreen privacy hedges that Wind Chime Nursery sells are: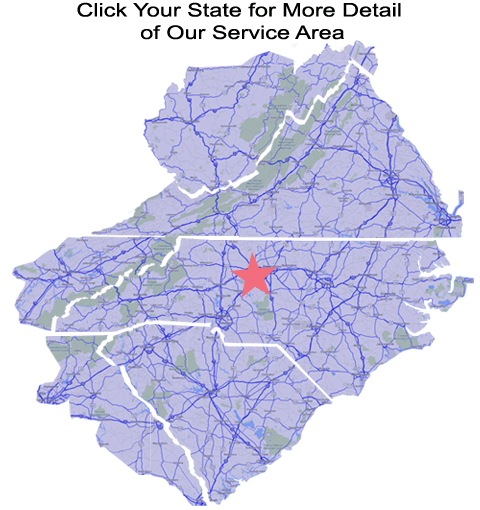 Wind Chime Nursery can help you figure out how high you want your privacy hedge and then determine how much space you have available for healthy plant growing to avoid root crowding.
If you have a large amount of space to plant Green Giants you may consider making a double or triple row which could include Ligustrum and Hollies.
Wind Chime Guarantee
Wind Chime's trees and shrubs are state inspected healthy plants. We provide a 1 year guarantee on all tress and plants that Wind Chime Nursery plants in the ground on our customers property.
To receive the guarantee, the customer also agrees to the following guidelines:
1. WATERING
New plants need to be watered regularly the first year. To protect your investment and benefit from the 1 year guarantee, customer agrees to the following watering guidelines.

1. Each plant needs to be watered for either one minute with a watering hose or 2 gallons of water if using large watering pot.

2. The number of times your plant needs to be watered will depend upon the outside temperature.

90's to 80's - 3 to 4 times per week
70's to 60's - 2 to 3 times per week
50's to 40's - 2 to 3 times per week
40's to 30's - 1 to 2 times per week

**RAIN DOES NOT COUNT UNLESS THE GROUND IS MUDDY**

2. ALERTING WIND CHIME
Since customer will be interacting with their new plants on a every other day or weekly basis, customer agrees to alert Wind Chime Nursery immediately (same day) if one of the plants is failing, turning brown or dying. If Wind Chime Nursery is notified in a prompt manner, we can in most cases reverse the damage and return the plant to a more healthy state. If the tree is beyond help, it will be replaced free of charge. Failure to notify Wind Chime Nursery of the first plant failing will void the 1 year guarantee.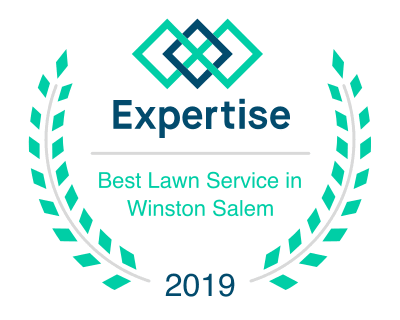 Wind Chime Nursery does not guarantee trees or plants that are planted by the customer. Wind Chime Nursery DOES NOT guarantee against trees being eaten or damaged by pets or wildlife.

Wind Chime Nursury also delivers and plants our trees and shrubs in Tennessee, South Carolina and Virginia or up to a three hours drive from Farmington NC with a minimum purchase and deliver fee.

Call us today at 336-782-0960 to receive a quote for your planting needs and location.

Green Giant Sizes, Potted and Planted

3 to 4 foot trees potted

3 to 4 foot trees planted

5 to 6 foot trees potted

5 to 6 foot trees planted

7 to 8 foot trees potted

7 to 8 foot trees planted

8 to 10 foot trees potted

8 to 10 foot trees planted