698 Cedar Creek Rd, Farmington, NC 27028 - 336-782-0960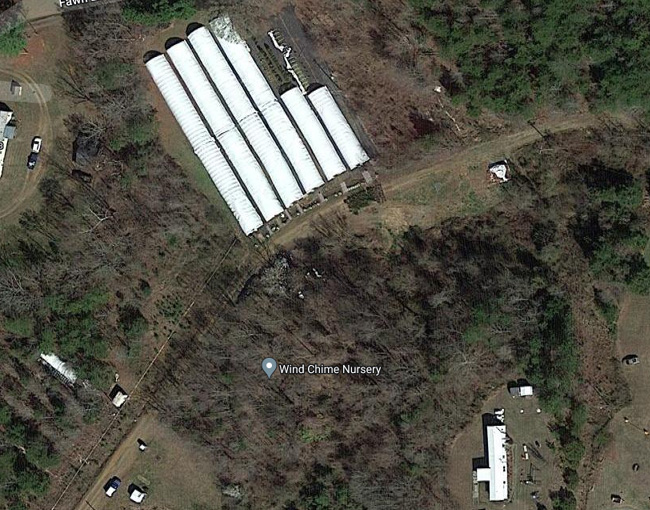 Wind Chime Nursery main location in Farmington NC!
When the weather starts to warm around the middle of February, our main location in Farmington is open to the public on weekends only 10 AM to 4 PM and by appointment. 336-782-0960
Wind Chime Nursery is in Farmington, which will not show on your GPS. For those of you that rely on GPS, most GPS mistakenly say we are in Mocksville. The directions are correct except for the "Mocksville".
We are on the opposite side of I-40 from Mocksville heading North on Hwy 801.
Heading west on I-40 from Winston-Salem go to Exit 180 N which is Hwy 801 N.
Turn Right onto Hwy 801. Go about 5 miles and go through the caution light. After the caution light go another 2 miles and turn left off of Hwy 801 onto Cedar Creek Rd. (if you reach the Farmington drag strip while still on Hwy 801, you have gone too far)
After turning left onto Cedar Creek Rd, go one mile into our entrance which is across the street from Cedar Creek Baptist Church and drive down the dirt road until you see our plants!
If you still can't find us call 336-782-0960 and we'll figure out where you made the wrong turn.
Please call for an appointment to visit us at the main nursery in Farmington.